Sunflower 🌻 against adversity 🌬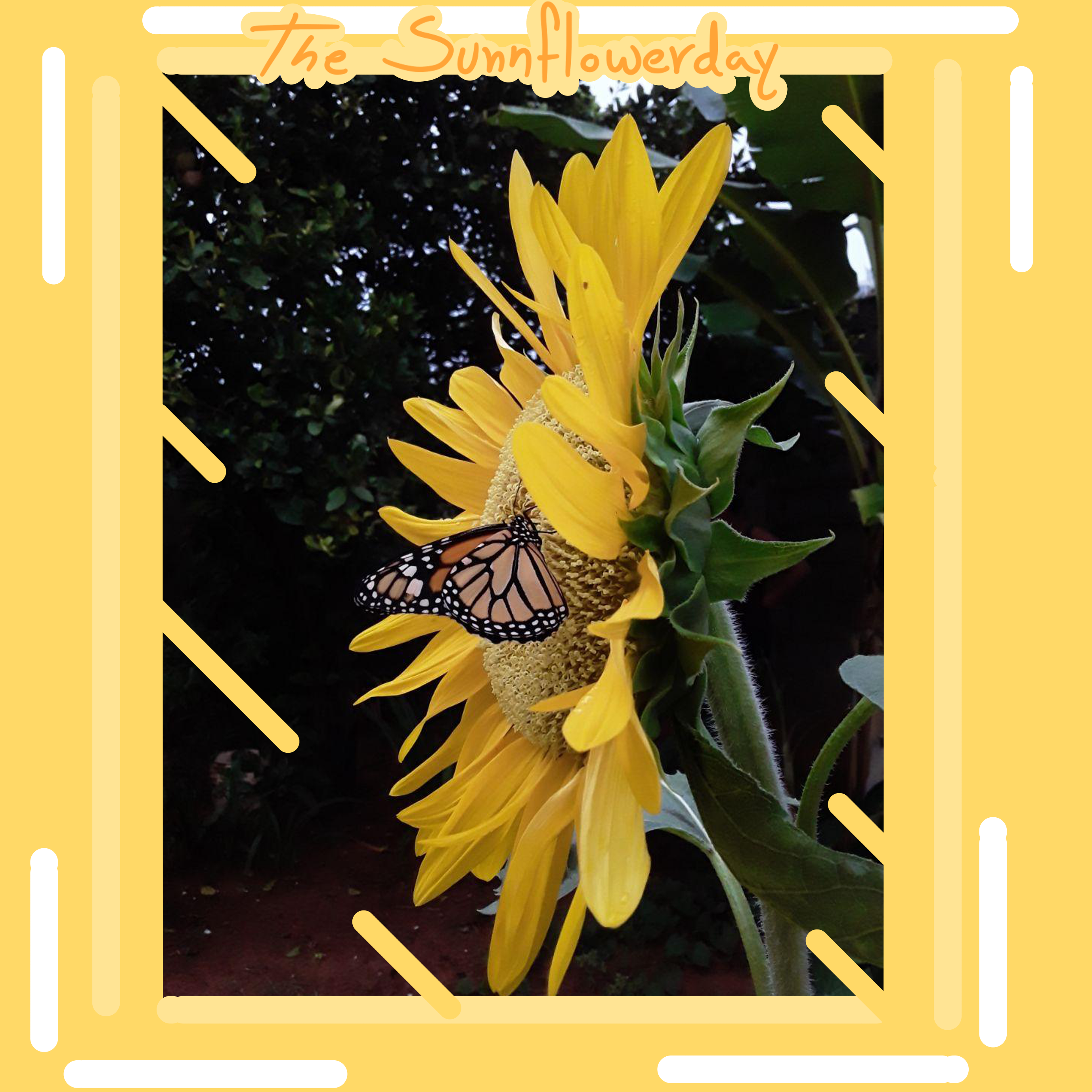 ESPAÑOL
El girasol
qué flor mas noble, no creen?
levantandose con orgullo ante la adversidad
amando siempre el sol
y siguiendole con enternecedor amor
hola amigos de hive!
hoy en dia vengo a mostrarles algo que... bueno a mi me sorprendió bastante.
me gustan muchiiiiisimo las flores,
vivas porsupuesto
en los miles de intentos para que crecieran flores en el patio de mi casa,
no habia tenido exito,
desde abonar la tierra, hasta regarla constantemente..
claro debo añadir que en mi patio tengo perros <3
athena y zeus pero yo de cariño les digo churro y churra HAHAHAHAHA
BUENO mis perros tienden a
comerse las flores las plantas y
todo lo que se encuentren por el camino
solo por que si HAHAAHAHAH
realmente es gracioso
oh claro!! es complicado con el asunto de que ellos viven en mi patio y debo estar pendiente de que no se hagan pipi en las flores!
por lo que al ver la enorme flor del girasol
levantarse con orgullo
en un lugar tan humilde y simple
me emocioné muchisimo.
no me malentiendan mi patio lo cuidamos lo mejor que nuestra economia nos lo permite pero pudiera estar mejor, si me entienden ?
hmm está en los planes cercar las plantas, pero aun no tengo suficiente dinero QAQ
espero muy pronto tener suficiente en mis ahorros para mostrarles mi patio cercado y con hermosas plantas y flores <3
sin mas que decirles hiveans
cuidense mucho, animense a escribir en los comentarios si tienen plantas y que tipo de plantas tienen
me encantaría leerles
ah~ en mis tiempos libres realizo otras actividades como jardineria costura o canto hahaha
si van a echar un ojito a mis post van a toparse con ilustraciones que realizo y de todo un poco~
mantenganse saludables fisica y mental mente ~
y no olviden ser como los girasoles
fieles seguidores de la luz en su corazon
ENGLISH
Sunflower
what a noble flower, don't you think?
rising proudly in the face of adversity
always loving the sun
and following him with touching love
hi hive friends!
Today I come to show you something that ... well, I was quite surprised.
I really like flowers,
live of course
in the ~~ thousands ~~ of attempts to grow flowers in my backyard,
had not been successful,
from fertilizing the land to constantly watering it ...
Of course I must add that in my yard I have dogs <3
athena and zeus but I love them churro and churra HAHAHAHAHA
WELL my dogs tend to
eat the flowers the plants and
everything found along the way
just because if HAHAAHAHAH
it really is funny
Oh sure!! It is complicated with the issue that they live in my yard and I must be careful not to pee on the flowers!
so when you see the huge flower of the sunflower
stand up with pride
in such a humble and simple place
I was very excited.
do not misunderstand my patio we take care of it the best that our economy allows us but it could be better, if you understand me?
hmm is in the plans to fence the plants, but I still don't have enough money QAQ
I hope very soon to have enough in my savings to show you my fenced yard with beautiful plants and flowers <3
without more to say hiveans
Be very careful, be encouraged to write in the comments if you have plants and what type of plants do you have?
I would love to read to you
ah ~ in my free time I do other activities such as gardening, sewing or singing hahaha
If you are going to take a look at my post, you will come across illustrations that I make and a little bit of everything ~
stay mentally and physically healthy ~
and don't forget to be like sunflowers
loyal followers of the light in your heart