🌸𝒜 𝒷𝑒𝒶𝓊𝓉𝒾𝒻𝓊𝓁 𝒹𝓇𝑒𝓈𝓈🌸 𝔻𝕒𝕚𝕝𝕪 𝕚𝕝𝕝𝕦𝕤𝕥𝕣𝕒𝕥𝕚𝕠𝕟 𝕒𝕦𝕘𝕦𝕤𝕥 𝟘𝟙/𝟚𝟘𝟚𝟘🌸 (Drawing process)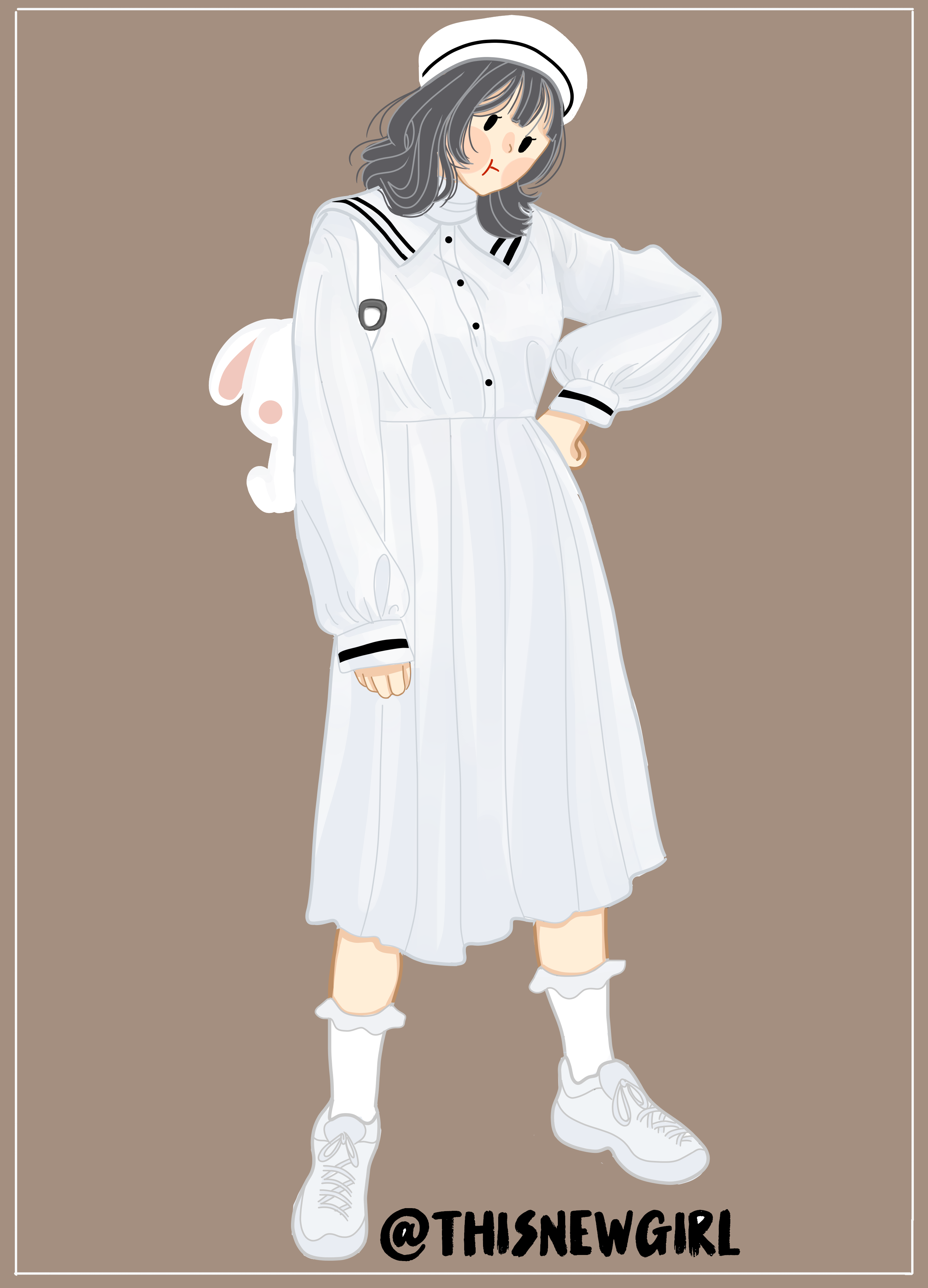 𝐻𝑒𝓁𝓁𝑜 𝒽𝒾𝓋𝑒 𝒸𝑜𝓂𝓂𝓊𝓃𝒾𝓉𝓎!
like every day I bring you a new drawing!
and today's drawing is very beautiful
<3
𝐼𝓉 𝒶𝓁𝓁 𝓈𝓉𝒶𝓇𝓉𝑒𝒹 ~
When browsing the pool of Aliexpress I was filling my wish list with super kawaii clothes that I can not buy hahahaha because well ... I do not have enough money to buy and pay for shipping.
So, I am a frustrated creature, who would like to buy nice and kawaii clothes!
ahhahaha but god gave me the gift of knowing how to draw and defend myself with my crafts, so in one way or another, even in my illustrations I manage to wear what I like ~
𝒶𝓃𝒹 𝓉𝒽𝒶𝓉'𝓈 𝒽𝑜𝓌 𝓉𝑜𝒹𝒶𝓎'𝓈 𝒹𝓇𝒶𝓌𝒾𝓃𝑔 𝓌𝒶𝓈 𝒷𝑜𝓇𝓃 ~
𝒜𝓈 𝒶𝓁𝓌𝒶𝓎𝓈, 𝐼 𝒶𝓅𝓅𝓇𝑒𝒸𝒾𝒶𝓉𝑒 𝓎𝑜𝓊𝓇 𝓈𝓊𝓅𝓅𝑜𝓇𝓉
𝐼𝓉 𝒽𝑒𝓁𝓅𝓈 𝓂𝑒 𝒶 𝓁𝑜𝓉 𝓉𝑜 𝓈𝒽𝒶𝓇𝑒
𝒶𝓃𝒹 𝑔𝒾𝓋𝑒 𝒶 𝒽𝑒𝒶𝓇𝓉 𝓉𝑜 𝓉𝒽𝒾𝓈 𝓅𝑜𝓈𝓉
<𝟥
𝓈𝑒𝑒 𝓎𝑜𝓊 𝓉𝑜𝓂𝑜𝓇𝓇𝑜𝓌 𝓌𝒾𝓉𝒽 𝒶 𝓃𝑒𝓌 𝒹𝓇𝒶𝓌𝒾𝓃𝑔
𝒷𝓎𝑒 𝒷𝓎𝑒 ~!
𝐻𝑜𝓁𝒶 𝒸𝑜𝓂𝓊𝓃𝒾𝒹𝒶𝒹 𝒹𝑒 𝒽𝒾𝓋𝑒!
como todos los dias les traigo un nuevo dibujo!
y el dibujo de hoy está muy bonito
<3
𝒯𝑜𝒹𝑜 𝒸𝑜𝓂𝑒𝓃𝓏ó~
cuando navegando por la piscina de Aliexpress fui llenando mi 𝓁𝒾𝓈𝓉𝒶 𝒹𝑒 𝒹𝑒𝓈𝑒𝑜𝓈 con ropita super kawaii que no puedo comprar hahahaha por que bueno...no poseo suficiente dinero como para comprar y costear el envío.
Entonces, soy una criatura frustrado, al que le gustaría comprar ropa bonita y kawaii!
ahhahaha pero dios me dió el don de saber dibujar y defenderme con mis manualidades, así que de una u otra manera, así sea en ulustraciones logro llevar puesto lo que me gusta ~
𝓎 𝒶𝓈í 𝒻𝓊𝑒 𝒸𝑜𝓂𝑜 𝓃𝒶𝒸𝒾ó 𝑒𝓁 𝒹𝒾𝒷𝓊𝒿𝑜 𝒹𝑒 𝒽𝑜𝓎~
𝒜𝑔𝓇𝒶𝒹𝑒𝓏𝒸𝑜 𝒸𝑜𝓂𝑜 𝓈𝒾𝑒𝓂𝓅𝓇𝑒 𝓋𝓊𝑒𝓈𝓉𝓇𝑜 𝒶𝓅𝑜𝓎𝑜
𝑀𝑒 𝒶𝓎𝓊𝒹𝒶 𝓂𝓊𝒸𝒽𝑜 𝓆𝓊𝑒 𝒸𝑜𝓂𝓅𝒶𝓇𝓉𝒶𝓃
𝓎 𝓁𝑒 𝒹𝑒𝓃 𝓊𝓃 𝒸𝑜𝓇𝒶𝓏𝑜𝓃 𝒶 𝑒𝓈𝓉𝑒 𝓅𝑜𝓈𝓉
<𝟥
𝓃𝑜𝓈 𝓋𝑒𝓂𝑜𝓈 𝓂𝒶ñ𝒶𝓃𝒶 𝒸𝑜𝓃 𝓊𝓃 𝓃𝓊𝑒𝓋𝑜 𝒹𝒾𝒷𝓊𝒿𝑜
𝒷𝓎𝑒 𝒷𝓎𝑒 ~!
Proceso de dibujo / Drawing Process :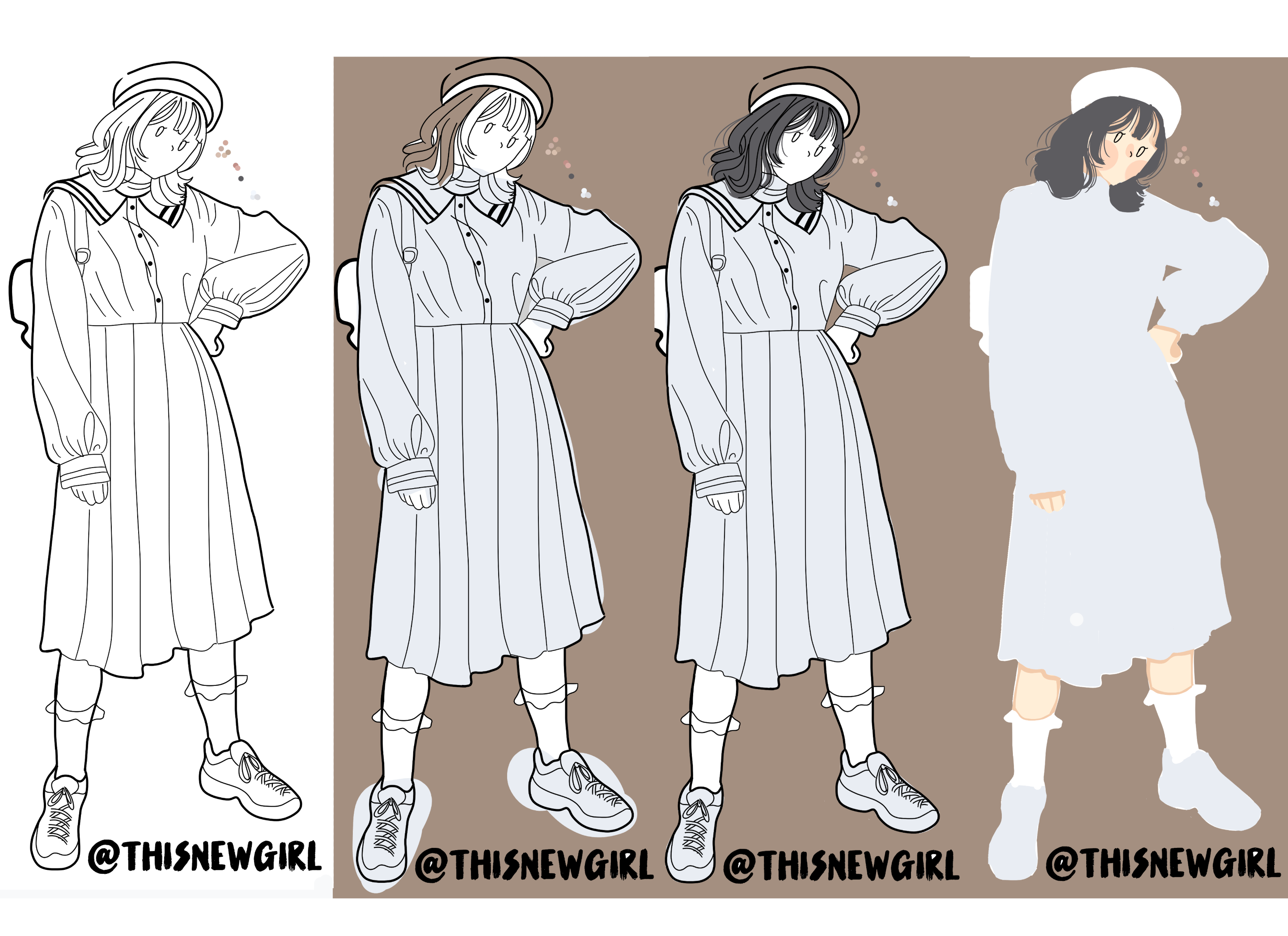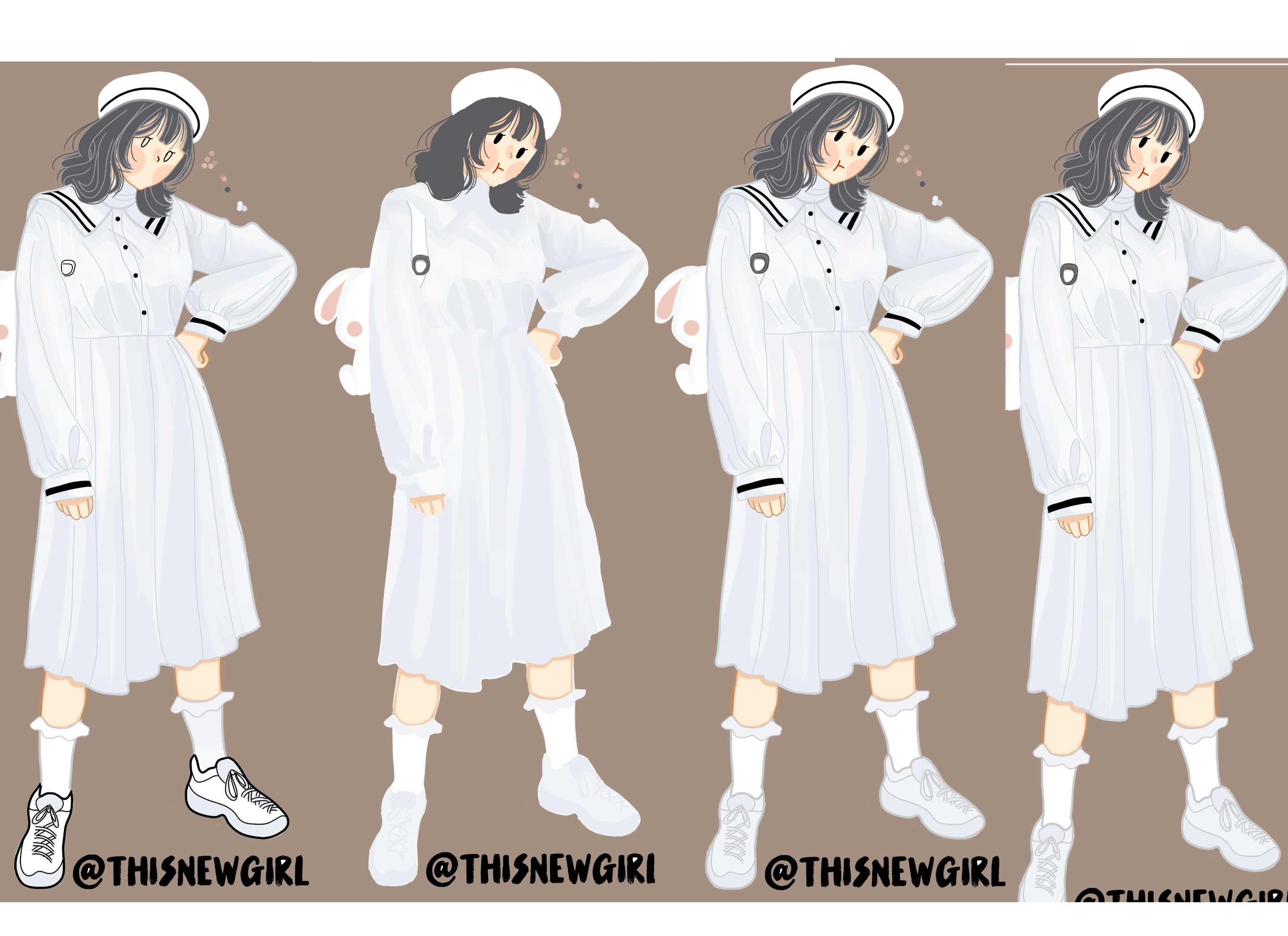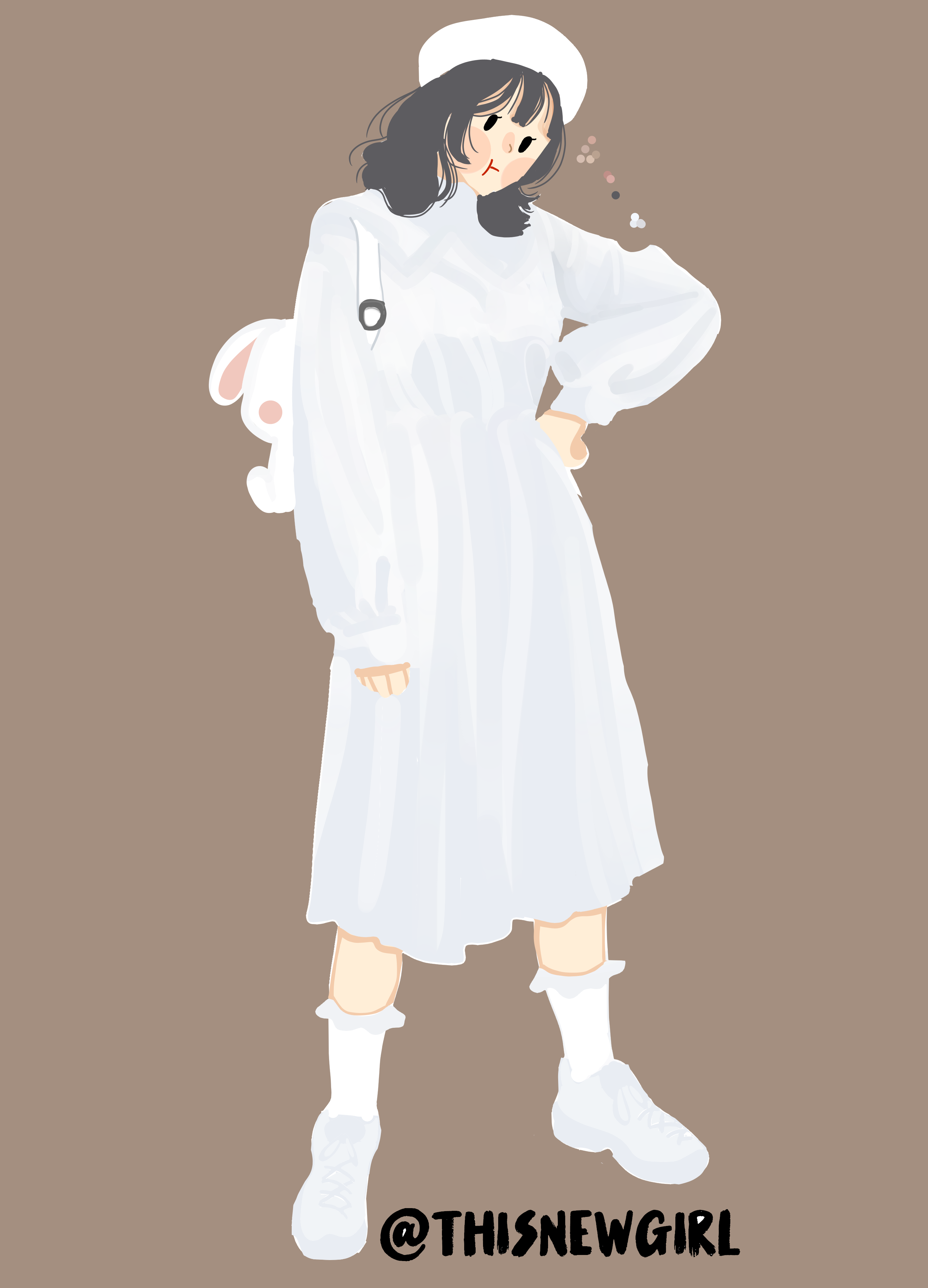 𝒫𝓇𝑜𝑔𝓇𝒶𝓂𝒶 𝓊𝓉𝒾𝓁𝒾𝓏𝒶𝒹𝑜:
Fire ALpaca
𝐸𝓃:
Laptop canaima, 2 gb de ram y mouse
𝒫𝓇𝑜𝑔𝓇𝒶𝓂 𝓊𝓈𝑒𝒹:
Fire Alpaca
𝐼𝓃:
Laptop canaima, 2 gb of ram and mouse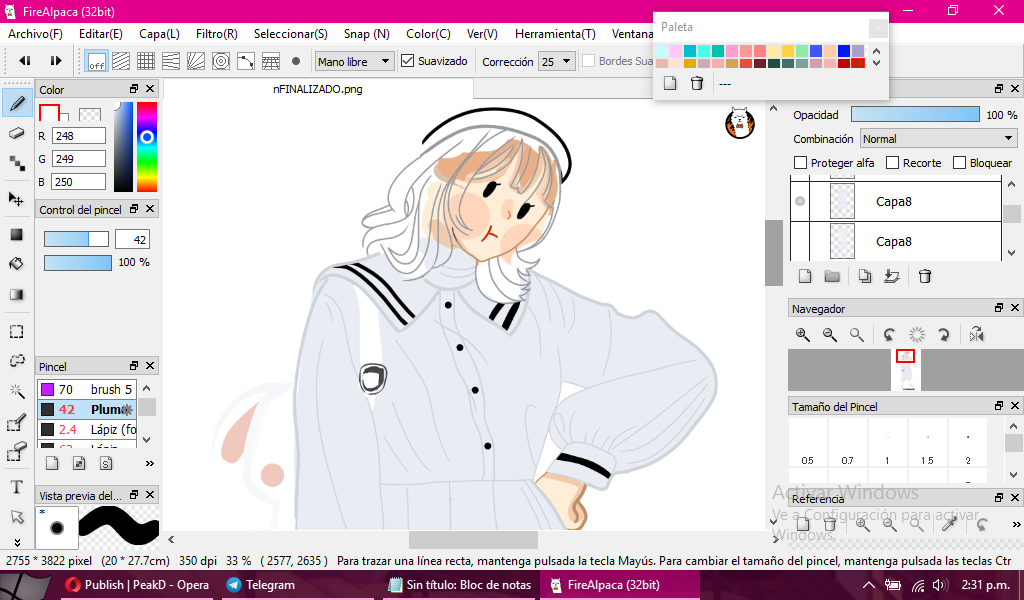 𝓡𝓮𝓯𝓮𝓻𝓮𝓷𝓬𝓮 𝓽𝓪𝓴𝓮𝓷 𝓯𝓸𝓻 𝓲𝓵𝓵𝓾𝓼𝓽𝓻𝓪𝓽𝓲𝓸𝓷:
𝒶𝓁𝒾𝑒𝓍𝓅𝓇𝑒𝓈𝓈 𝒹𝓇𝑒𝓈𝓈
𝓡𝓮𝓯𝓮𝓻𝓮𝓷𝓬𝓲𝓪 𝓽𝓸𝓶𝓪𝓭𝓪 𝓹𝓪𝓻𝓪 𝓵𝓪 𝓲𝓵𝓾𝓼𝓽𝓻𝓪𝓬𝓲𝓸𝓷 :
𝓋𝑒𝓈𝓉𝒾𝒹𝑜 𝒹𝑒 𝒜𝓁𝒾𝑒𝓍𝓅𝓇𝑒𝓈𝓈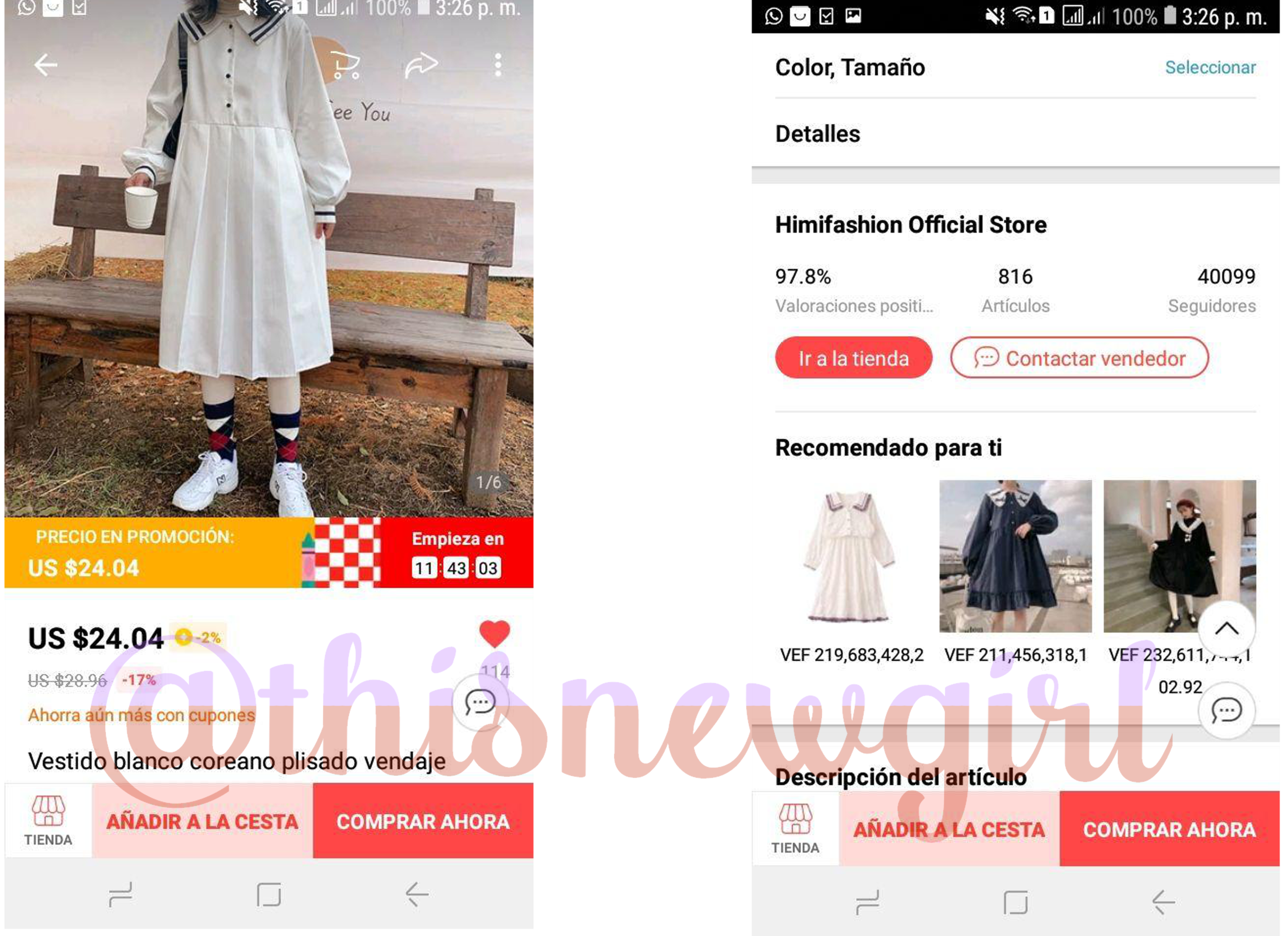 If you want to make some monetary support you can do it by voting on this blog, sharing it, commenting
or sending hbd
if you prefer to do it by other means you can use ko-fi (I still don't upload my drawings there but in a couple of days I will be doing it;)) I understand that it works with paypal or so I think
my nsfw illustration twitter click here to follow my blogs and support my art!
ℍ𝕚! 𝕀𝕗 𝕪𝕠𝕦 𝕘𝕠𝕥 𝕙𝕖𝕣𝕖, 𝕕𝕠𝕟'𝕥 𝕓𝕖 𝕒 𝕓𝕦𝕥𝕥 𝕒𝕟𝕕 𝕣𝕖𝕒𝕕 𝕠𝕣 𝕒𝕥 𝕝𝕖𝕒𝕤𝕥 𝕥𝕒𝕜𝕖 𝕒 𝕝𝕠𝕠𝕜 𝕒𝕥 𝕞𝕪 𝕠𝕥𝕙𝕖𝕣 𝕡𝕠𝕤𝕥𝕤! 𝕐𝕠𝕦𝕣 𝕧𝕠𝕥𝕖 𝕙𝕖𝕝𝕡𝕤 𝕞𝕖 𝕘𝕣𝕠𝕨, 𝕕𝕠𝕟'𝕥 𝕗𝕠𝕣𝕘𝕖𝕥 𝕚𝕥! 𝕚𝕥 𝕙𝕖𝕝𝕡𝕤 𝕞𝕖 𝕒 𝕝𝕠𝕥 <𝟛 𝕖𝕤𝕡𝕖𝕔𝕚𝕒𝕝𝕝𝕪 𝕥𝕠 𝕤𝕦𝕣𝕧𝕚𝕧𝕖 𝕚𝕟 𝕥𝕙𝕚𝕤 𝕡𝕒𝕟𝕕𝕖𝕞𝕚𝕔
the links you see below are direct entries to each of my posts
🎀 𝒜 𝑔𝓇𝑒𝒶𝓉 𝒻𝓇𝒾𝑒𝓃𝒹𝓈𝒽𝒾𝓅 🎀 𝔻𝕒𝕚𝕝𝕪 𝕚𝕝𝕝𝕦𝕤𝕥𝕣𝕒𝕥𝕚𝕠𝕟 𝕛𝕦𝕝𝕪 𝟛𝟙/ 𝟚𝟘𝟚𝟘
_______𝐿𝒶𝓋𝓊 𝓂𝑒 𝒻𝑜𝓇 𝓉𝒽𝑒 𝓇𝑒𝓈𝓉 of our lives ________🎀𝕕𝕒𝕚𝕝𝕪 𝕕𝕣𝕒𝕨𝕚𝕟𝕘 𝕞𝕠𝕟𝕕𝕒𝕪 𝕛𝕦𝕝𝕪 𝟚𝟟 𝟚𝟘𝟚𝟘🎀
my last post: a portrait of: 𝕱𝖆𝖇𝖎𝖎 𝕻𝖚𝖋𝖋𝖑𝖊 sunset aesthetic
click here if you wanna see my recent post
𝕱𝖆𝖇𝖎𝖎 𝕻𝖚𝖋𝖋𝖑𝖊 𝒟𝒾𝑔𝒾𝓉𝒶𝓁 𝒹𝓇𝒶𝓌𝒾𝓃𝑔🎀𝓂𝓎 𝒻𝒶𝓋𝑜𝓇𝒾𝓉𝑒 𝓎𝑜𝓊𝓉𝓊𝒷𝑒𝓇 🎀 𝒹𝓇𝒶𝓌𝒾𝓃𝑔 𝓅𝓇𝑜𝒸𝑒𝓈𝓈
🍑progress today July 21/ 2020 #2 🎟 the wolf and the lady 🐺
Digital Art// Quick drawing of a bunny in hot day summer
weird and cute commissions~ making cute nsfw art for stickers ALERT NSFW CONTENT